Okay, now that y'all are worked up thinking that kids shouldn't be working at such a tender age, you'll be really worked up to know I was being facetious about the "poor abused kids".  
From the ages of  5 to 8 years old I was picking potatoes in the potato fields of Maine, that was before harvesters were ever thought. 
We got the huge wage of 30 cents a barrel, I repeat, a barrel, we would fill up bushel baskets and dumped them into the barrels, being so small I would fill up my basket and wait for someone to come and empty it for me. 
By the time I finished working as a potato picker I had saved up the $36 I needed for my new green Rollfast bike,  the bike my siblings would tease me about, "can't that Rollfast roll any faster than that?". While they had Schwinn's and Columbia's I preferred my green Rollfast with no basket or light, it beat the hell out of my ice cream truck tricycle. 
Anyway, back to the potatoes, it taught all of us kids a work ethic and didn't manage to kill or maim a single one of us.  In Maine they used to close school during potato pickin' season just so they could have the kids work the fields, don't know if they still do.
Our kids are so pampered and spoiled these days, no wonder they grow up to be part of the entitlement crowd with no work ethic. 
Berry Farms Fined For Hiring Kids As Young As 6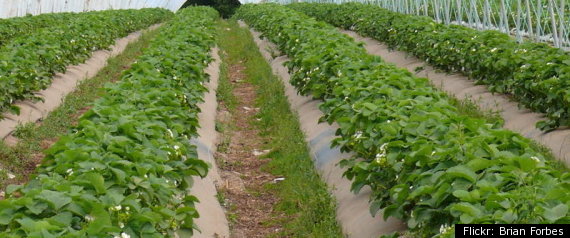 First Posted: 8/5/11 10:01 AM ET Updated: 8/5/11 10:11 AM ET
http://www.aol.com/2011/08/05/berry-farms-hire-kids_n_919284.html?test=latestnews
PORTLAND, Ore. (Associated Press) — The U.S. Labor Department has fined three Washington state strawberry farms a total of $73,000 for employing children as young as 6 years old as pickers.The department's Portland, Ore., office says Thursday the violations include failing to maintain proof-of-age records and pay minimum wage. A total of nine underage workers were found during a child labor investigation in June at farms in Woodland, Wash., and Ridgefield, Wash.
The department says all three employers removed the underage workers and agreed to attend wage and hour training for the next three years.